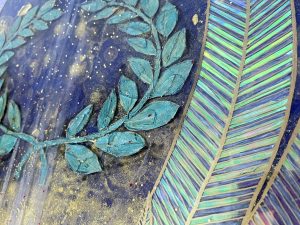 How often do we think about our name and if we live up to what it means? Probably not that often.
Some of our names are hard to live up to. Names like; Gloria.
I looked up the meaning of Gloria, and these are some of the words I found: pride, grandeur, splendor, power, fame, glory, wealth, happiness, magnificens, radiance, ring of light, crown, saint halo, saint shimmer, mandorla halo, tiara, wreath, honor, reputation, notoriety, prestige, gleaming, glow, reflection, radiance, glitter, glimmer, flicker, aura, refulgence, shimmer, influence, respect, hearing, reputation, authority, position, status.
Wow! pretty hard to live up to, isn't it?
My mother's name was Gloria Maria. And she lived up to her names.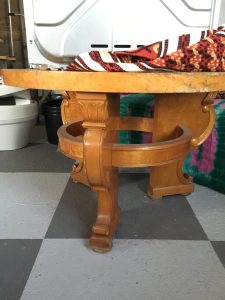 I found this table att a flee market and thought that,
if my mom was a table… she would be this one.

She was born August 20th 1927 in north of Mexico, she had 6 brothers and two sisters, her mother only had time for the family and her father was some kind of a general. When been a child, she playded mostly with her brothers, making her a strong "not giving up fighter".
As a child, she started to live up to the name of Maria been rebellios and defiant at school.
Her father died when she was 13 years old (her first great sorrow), and her brothers had to skip school in able to work and take care of the big family. One of her brothers payed for her studies and she became a schoolteacher. Here is when she started to live up to her name Gloria, graduating with top grades, honor and nominated "queen" of the school.
By the time she graduated, was she already engaged and soon to be maried, if it wasn't for her fiansé, getting kill in a car accident (her second great sorrow). Life has strange ways… my father was witness to the car accident, he stoped to help and my mothers fiansé died in the arms of my father.
It looks like it was written on the stars, mother been the "queen of beauty and intellegens" and father been "the most famus bachelor" getting married. Like a ferry tail.
But it wasn't.
Both, mom and dad had to struggle all their life. When getting married, father lost all his privileges and had to learn how to survive.
Father used his airplains to spray the fields but stopped 'cause mother was worried to loose him on a planecrash and started with a little paper shop. Mother started sawing schooluniforms and later on got a job as district coordinator of Avon Cosmetics representatives.
When their first child was born, they used to spend the weekend with my grandparents at the golf club, where the man played golf and the women played bridge. After a wile, mother got bored of playing cards and started to try the golf clubs, her friends started to follow her and they started to play golf. Mother became golf champion and the pioneer for the female golf team in north of Mexico. Once again, living up to her names, been rebellion, defiant, glorios, radiant, famus and ruling.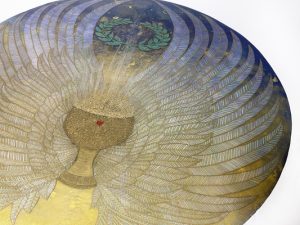 The cup represents the victories she had on golf,
the bay leaf crown her accomplishments in life
and the wings are the means of her soul.
Mother got a promotion in Avon Cosmetics and we moved from Saltillo to Monterrey city. Her work was outstanding and after four years, she got a new promotion leading the family to Mexico city. She continued shining with her skills and intellegence, getting promotion after promotion and becoming one of the few women with one of the highest work position in Mexico by that time.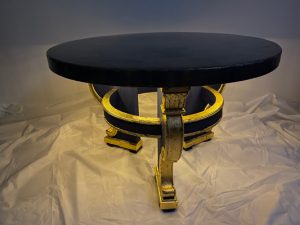 LED-lights representing her shining life and gold leaf
on the base representing honor, halo, foundation.

In the middle of the 70's, she left Avon Cosmetics and started her own company, later on she worked at the Mistery of Commerce, and when working at the Chamber of Deputies on 1986, she lost her son Carlos, in a car accident (her greatest sorrow). After that, she moved back to Saltillo and worked for the government on the Department of Tresure and ended up with her own bussines in Real State.
Since 1985, Mexico had economical crisis one after the other, one of them finely hited on my parents. Mother become a widow in 2002 (her last great sorrow). In the fall of 2015 she moved to my brother, who has giving care and love the hardest years of her life.
Mother gave birth to five children and she devoted all her life and work to provide with the best for them.
I'm very greatfull of having the privilege of been her daughter. When I finished my univeristy studies, she invited me to trouble around Europe for three months, we became best friends after this aventure. Now, being the mother of three children, I can understand the struggles my mother had with oss. She tought me not to give up, to be strong enoguh to follow my dreams, to take my own road, be proud, shine and unbrace every oportunity life gives me. I hope I can also be a guide light for my children.
Thanks mom, I would have been lost with out you.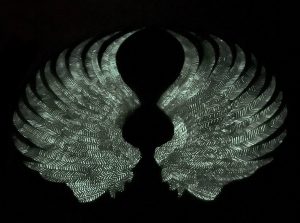 The wings are painted with shine-in-the-dark acrylics,
representing the light she left behind.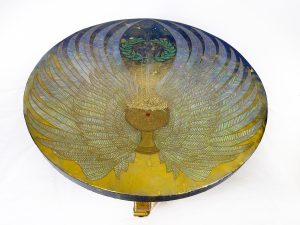 Gloria María Menchaca Almaguer
20 August 1927 – 23 February 2021
Present in my heart.
"Gloria" 95 cm diameter × 63 cm high coffee table with several layers of resin with acrylics, eggshells, bay leafs, glitter, gold pigment, metallic markers, iridescent film, shine in the dark colour, led lights under the table and gold leafs on the table legs.
Price: 42 000:- SEK
Contact: ana(at)gaines.se