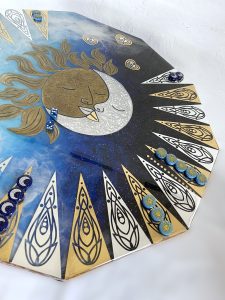 I come from a family that played a lot of board games. From a very early age, we kids learned how to play poker, bridge, chess, Chinese checkers, etcetera.
When I met my husband, I was so happy to find out that he also enjoyed board games and that he had even competed in chess when he was young. Then, when we had children, it only felt natural that we should teach them how to play these games too.
One of our favorite board games is backgammon.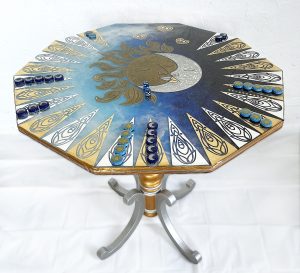 Sun and Moon is a backgammon table inspired by our own little paradise on Öland. In 2001, we were lucky enough to buy our summer house there. The first night we stayed in the cottage, we got to watch a fantastic sunset, while a big moon rose in the sky ­– just in time to exchange a kiss with the descending sun.
Backgammon is a game for two players, both of which have fifteen round game pieces. The game board has twenty-four triangle fields (called "points") and the player's goal is to move their own pieces along the points, past the opponent's pieces and then off the board. Using dice, the players move their pieces in opposing directions. When the players have all their pieces in their "home board" (the last six points), they can start moving their pieces off the board, as the dice allow.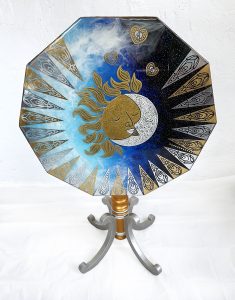 To me, the game feels like a sunset and a moonrise; the sun and moon meet for a short period; there are cycles that touch; and when you finish the game, everything starts over again.
The idea for the backgammon table was born in September 2019. It took a whole year to sketch, plan, reflect and act until the table came to fruition in September 2020.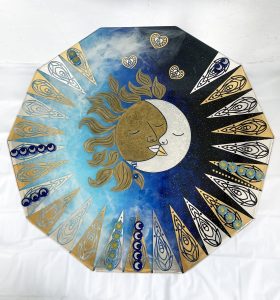 I like to recycle materials and to create art which has function – probably because I started out as a designer. The table came with the house (otherwise I usually receive my tables as gifts, save them from the dump or buy them at flea markets). The ten-sided polygon shape and the option to fold it down in order to view it from a distance was irresistible, so then I just had to break the rules and turn a backgammon field from four-sided to ten-sided.
In 2018, I started to include epoxy in my work; it makes the colors look freshly painted and I use it in several layers to create depth in the motif. Sun and Moon consists of five layers of epoxy; some of them are a mix of white epoxy and acrylic; others consist of transparent epoxy only (the layers between the triangle-, sun-, moon-, and heart layers). The triangles, hearts, sun, and moon are made of metallic vinyl. The table base is painted in acrylic and protected with varnish. The game pieces were made with a layer of epoxy mixed with epoxy paint, metallic colors, and a layer of transparent epoxy. The dice were bought, as they must be precision dice.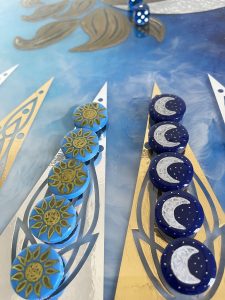 Games are a good way to make time pass when you are isolated due to COVID-19 and the backgammon table have led to several exciting ideas for other gaming tables, as well as deeper thoughts on what they represent in life and more.