The Birth Dream
Sometimes I have a clear idea of what I'm going to do and I get the material to start the project. More often is the way around. I get the material and the idea pops up while working, I get association between memories and materials resulting in a story or a feeling.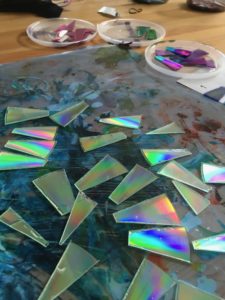 While working with this project, interesting effects happened. I had been using calligraphy inks 'cause they have the most UV resistant (they don't fade fast when exposed to the sun), but when pouring the first layer of resin, the colors bled out like if they were evaporating.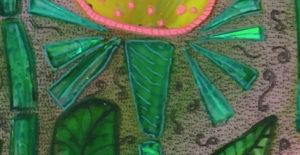 This effect remembered me of the impression you get when looking at the horizon on the desert, like vapor coming out of the fields and mirages of water in the distance.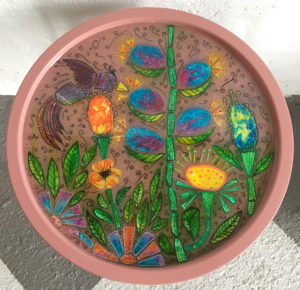 The black lines on the background represent the wind transporting the pollen (represented with small black dots) spreading new life. The pink background represents innocence.
This bleeding of colors, the motives of non existing flowers, the bird, the lines and the dots embraced by the pink color, felt like an unknown world, new experiences, like a birth and a dream.
46,5 cm diameter x 52 cm high metallic tray table, made with CD-ROM pieces painted with calligraphy inks, acrylics and resin.